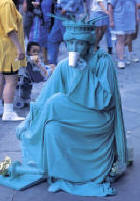 In 1985, Jennifer Stewart was working as an art teacher with schizophrenic adults in Iowa City, Iowa, when one of her students commented he thought she looked like the Statue of Liberty.
Ironically, the next year Stewart happened to read about a national Statue of Liberty look-alike contest being held in celebration of the statue's 100th birthday. Jennifer never would have considered entering such a contest if not for her former student's comment.
Stewart approached the construction of the costume as if it were an art project. Little did she know this "art project" would flourish into a fulltime career.
Making the costume proved to be a monumental task, given Stewart was still living in Iowa and had never before visited the Statue of Liberty. Her background in art proved to be invaluable -- and cost effective too. Jennifer used everyday household items, such as paper towel rolls, laundry baskets, etc., to make the props of her hair, torch, tablet, and crown.
Jennifer won the Chicago mid-western regional division of the contest, and thus qualified to go on and compete against the other 1,000 contestants nationwide. On July 1, 1986, during a live broadcast of the CBS Morning News, Stewart "took home the crown" as the National Winner of the Statue of Liberty Centennial Look-Alike Contest.
---


The question Jennifer gets asked the most is; how does she get her skin that particular shade of green. Jennifer uses a water-based theatrical make-up that she hand-mixes in order to achieve that special tarnished copper color.

Make-up application is relatively easy. Stewart first applies regular face make-up, and then paints the green water-based theatrical make-up on her face, neck, hands, and arms with a large brush.
She quickens drying time by using a hairdryer. Once the make-up has set, it will not rub off on hands or clothing, and essentially becomes waterproof, although it comes off easily in the shower with soap and water.



Photos of make-up application courtesy Radhika Chalasani©. All rights reserved.