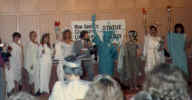 These photographs were taken during the first round of the national contest. The contest sponsor targeted 12 different cities across the country, and given Stewart was still living in Iowa, she qualified to compete in the mid-western regional division on May 29, 1986 at the Chicago Ritz Carlton.
When Stewart first arrived to the hotel, she thought she'd been given the wrong information, given this didn't look like a Statue of Liberty look-alike contest to her since most of the other contestants were simply wearing white dresses and slacks. There were a few creative renditions of Liberty's garb, but overall, Stewart won green hands-down.
Ultimately, Jennifer was supposed to have been granted a
yearly production contract for having won the national contest, but to her chagrin, found out almost immediately that the contest sponsors were not to be trusted. Needless to say, although the overall experience was very thrilling, the fact that she didn't actually win anything was somewhat disappointing, to say the least.