By LENA WILLIAMS
JENNIFER STEWART is poised in front of the bathroom mirror in her Brooklyn Heights apartment, primping and preening for another day at the office.
The toilet seat cover looks like the cosmetic counter at Bloomingdale's, filled with foundation, eyeliner, powder and highlights. The only difference is everything is green.
"You look gorgeous," she tells her reflection in the mirror.
Don't laugh ladles! Think it's not easy being green? Think again.
When Ms. Stewart walks down the street with that special copper glow of hers, men ask her out on dates. Strange women kiss her cheeks. Children tug at her arms like they're precious toys. And she's been known to stop traffic — medallion cabs included — from South Street Seaport to Fifth Avenue.
For the past ten years, Ms. Stewart, a former arts teacher to the disabled, has been dressing up as Miss Liberty and wowing tourists and hard-line New Yorkers alike with an act dubbed; "Living Liberty." Not that there's much acting required.
Ms. Stewart didn't speak to the huddled masses swarming at her feet until a few years ago. Before then, she would just choose a heavily-traveled tourist spot, put down a collection bucket, climb on her 12 inch pedestal and let the crowds flock to her as if the mighty Statue itself had stepped down from her pedestal to be among the people. Two years ago, she began giving the crowds some history of the statue and how she came to portray it.
Her appearance is so convincing that Ms. Stewart seems to inspire genuine reverence. Just the other day, an elderly woman who watched Ms. Stewart, done-up as Miss Liberty, gracefully descend the steps of her apartment building, rushed to her side and said breathlessly: "One of my most wonderful memories was when my husband and I were on the QE2 coming back to New York from England and we saw you."
Of course, she was referring to the real Statue, not Ms. Stewart, but it's one of the many peculiar things that happens on a day in the life of this performance artist.
"Do you mind if we take a picture with you?" Melanie Denk and Anke Wagner, two teen-something tourists from Germany, asked Ms. Stewart as she was removing her props from a car parked outside the South Street Seaport. "We'd be honored."
"Well, I'm not really set up," said Ms. Stewart. "Can you wait five minutes?" Fifteen minutes later they flanked Ms. Stewart and got their photos.


Give Me Your Face Powder, Your Eyeliner
This is how Jennifer Stewart, a performance artist, transforms herself into Miss Liberty:
· She first applies her everyday foundation and powder. Next, she applies sparkling copper green eyeliner and mascara.
· With a paint brush, she then applies patina Krylon paint starting with the arms, then the neckline — using upward strokes — the face and finally the eyelids. ("They require concentration," she says.)
· Using a blow dryer, she dries the makeup.
· Then a Krylon fixer spray is applied. (Once it dries and sets, it makes the application waterproof.)
· The finishing touch is a dusting of dry patina face powder. All done up in 20 minutes!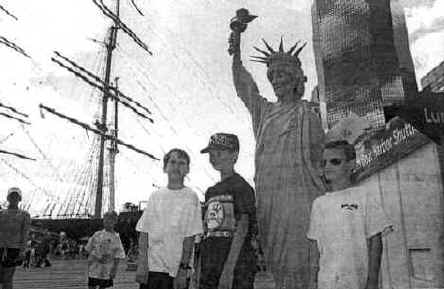 Photographs by Andrea Mohin/The New York Times
Not everyone takes so kindly to a mere mortal passing herself off as a cherished symbol of friendship, freedom and hospitality. An elderly man once called her a fraud. An English tourist accused her of begging. A homeless man slapped her. A burly young man pinched her rear end. And a little girl of about 3 once said she'd just gone to see the "pretend one, but she didn't have a bucket of money in front of her."
What's a nice girl from Audubon, Iowa, doing parading around New York City like the Statue of Liberty, anyway?
"It all started when one of my former students who suffered from schizophrenia told me that I looked like the Statue of Liberty," said Ms. Stewart. "A few days later, I read that there was a national Miss Liberty look-alike contest to celebrate the centennial. I decided to enter."
She cobbled together a costume — skirt, shawl and baggy tank top — from a double-knit patina material, an old mop, plaster, paper towel rolls, masking tape and glue. But constructing the crown proved difficult.
"It had to be sturdy and removable," she remembers. "Nothing I tried worked."
Frustrated, she decided to do a load of laundry, and voila! The laundry basket!
"It was perfect for the crown," she recalled, smiling at her stroke of ingenuity. She won the contest in 1986 and thought it would be the start of something big. But nothing happened. "I figured I'd never put on the costume again," she said.
But struggling to make ends meet, in the "big city," Ms. Stewart resurrected Miss Liberty for a Halloween contest and won the $1,000 first prize. Other prized followed.
By then, she was 30, going through a divorce and re-evaluating her life. She dropped out of graduate school and went to work full-time doing "Living Liberty."
"Along with the street stuff, I do private parties and trade shows," said Ms. Stewart. But, now, Ms. Stewart has reached a cross-roads in life. "I'm getting too old to keep doing this," she said between huffs as she lifted her gear into a cab. She works an average of four hours a day, usually weekends. The dollars and quarters she receives aren't enough to pay the rent, so she has written a children's book and is working on a play about liberty and freedom.
A part of her, however, is not yet ready to let go of her alter ego. There are moments when Ms. Stewart seems at one with the colossal statuary. "She was a liberated woman before most of us liberated women," she said. "I've tried to embody, in my own personal life, what she stands for."
Indeed, when in costume, Ms. Stewart is careful to conduct herself in the manner one expects of a revered symbol.
There she was last week, at the end of a long, lunchless day, trying to hail a cab in front of St. Patrick's Cathedral with people tugging at her shawl sleeves begging for one last photograph. "I'm really tired," she said to no avail.
From the crowds emerged two women with a young boy in a wheelchair. Ms. Stewart kneeled down. "How about a picture," she said. "What's your name? Do you know who I am?"
The boy nodded.
"You look just like her," he said in a slow Italian accent. "You're sooo beautiful."
Ms. Stewart smiled and caught the next cab to Brooklyn.